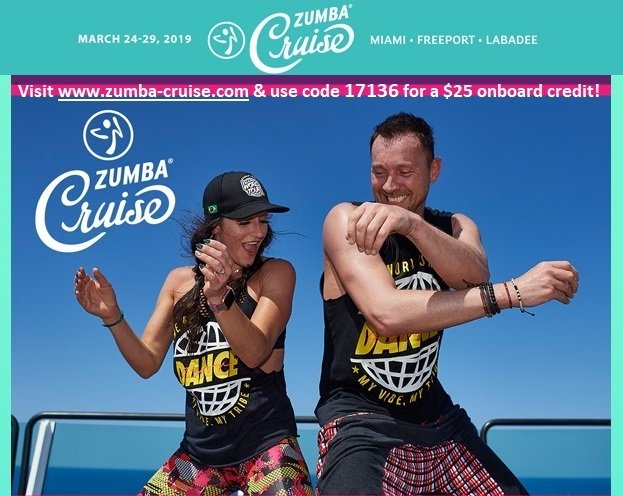 Zumba Cruise 2019 Frequently asked questions:
Question: Where/how do I book my cruise?
Answer: www.zumba-cruise.com or call 954-744-8382 (Zumba Cruise Department telephone number)
Question: Is the Zumba Cruise for Instructors only?
Answer: No, It is for EVERYONE! Zumba Instructors, Non-Instructors, Husbands, Wives, Kids, parents. Everyone is invited to attend and join the fun!
Question: Are there discounts?
Answer: Yes, if you are a Zumba Instructor and know your ZIN code then you will receive 10% off.
Non-ZIN (non-instructors) will receive a $25 onboard credit when using instructor ID code 17136 (must use code while booking your reservation. It cannot be added later) (all members of your group can add the code for a $25 onboard credit!)
Example of where to add the code while booking:

Question: Can one person book the room for everyone in the same cabin?
Answer: Yes, One person can book for everyone, but that person will need all the information about everyone they are booking for such as:
1.) their exact name as it appears on their passport
2.) date of birth
3.) e-mail
4.) full home address
5.) telephone number
6.) credit card information (optional), all members will have 24 hours to call in by themselves to add their credit card information.
Question: What are the ages of attendees on the cruise?
Answer: All ages! Many attendees in their 20s, 30s, 40s, 50s, 60s, 70s and 80s!
Question: Where does the ship sail from and what are the ports of call?
Answer: The ship sails from Miami, Florida and the ports of call are Freeport, Bahamas and Labadee, Haiti.
Question: Which cruise line & ship is the Zumba Cruise?
Answer: Royal Caribbean Cruise Line Navigator of the Seas.
Question: What are the prices?
Answer: Prices start at $728 per person for a group of 4 sharing an inside room. Port Charges, taxes and fees (including gratuity) are extra. Taxes approximately $145.59 and gratuity $72.50.
Question: Is there any advantage to booking early?
Answer: Yes, the less expensive rooms typically fill up first.
Question: Do I have to pay for the entire cruise in right away?
Answer: No. You can book your cruise with a $200 deposit and then choose how to pay the remaining balance. (by installments or monthly).
Question: Does it cost extra to attend Zumba Classes on the cruise?
Answer: No, All Zumba Classes are included!